University forum: it is important to educate present and future generations
Global Embassy of Activists for Peace
University forum: it is important to educate present and future generations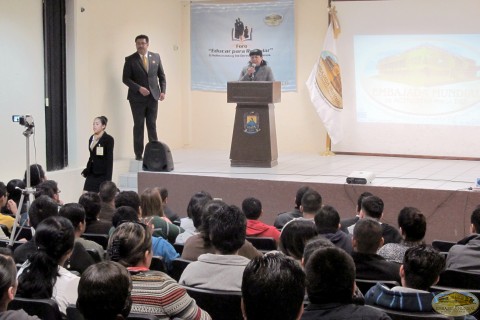 In conjunction with the Autonomous University of Coahuila (UA de C), the Global Embassy of Activists for Peace (GEAP) in Mexico, under the Educating to Remember Program, held the Educational Forum "The Holocaust and Human Rights" in the Faculty of Systems "Professor Marcial Ruiz Vargas".
The event was attended by the director of the Faculty, Jesus Navarro; and on behalf of Carlos Vargas, member of the Fifth Vice-Presidency of the Human Rights Commission of the State of Coahuila (CDHEC), Ricardo Colunga.
Also attended by Holocaust historian Luis Aguilar; in addition, around 85 students and teachers of the Institution, and the coordinator of the GEAP in Coahuila, Maria Favela.
The Holocaust and education
Director Jesús Navarro was in charge of the opening of the event, who during his speech said:
"It is very important that events like this can be capitalized by the students, and become more critical and analytical about the facts that frame the history of the past."
GEAP representative, Maria Favela, said that the teaching of the Holocaust should not be directed at reason, but should appeal to the heart of each individual.
For his part, Ricardo Hernández in his speech spoke about the rights of all citizens, mentioning that no government or authority has competence to deny these rights because they are part of the essence of the person.
"The inalienable rights are those considered as fundamental; which cannot be legitimately denied to a person, "said Hernández.
Historian Luis Aguilar in his lecture highlighted how Hitler used education during World War II to fulfill his purpose:
"Hitler used the most elementary and sophisticated strategies, being systematic and practical, until achieving the partial extermination of a whole people. We must prepare current generations so that something so terrifying, will not happen again, "said Aguilar.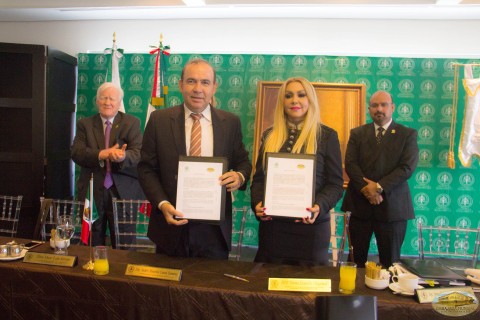 For the peace of the integral human being
The Forum culminated in the delivery of recognition by GEAP and the AU of C to the speakers for their contribution towards strengthening the peace of the integral human being.
It is worth mentioning that the Holocaust Gallery was inaugurated in the library of the Centro de Bachillerato Tecnológico Industrial y de Servicios 54 (CBTis 54), which was attended by academics, teachers, students and the media.
Details
Date:
access_time Thursday, November 24, 2016