Panamanian Students received a lesson on the Holocaust to detect current alarm indicators
Global Embassy of Activists for Peace
Panamanian Students received a lesson on the Holocaust to detect current alarm indicators
The GEAP and the Istmo University came together to hold an "Educating to Remember" Forum
In the search of establishing an education founded on the diffusion and protection of democratic justice and equality values, the Global Embassy of Activists for Peace (GEAP) in Panama, carried out along with the University of Istmo a University Forum: "Educating to remember - the Holocaust, paradigm of genocide."
The event counted with the participation of 120 students of different careers such as Marketing, English, Education and Ethics, who received a training about the Holocaust as a topic of study for the promotion of Human Rights and as a tool to detect the signs of aggression against human dignity and the reiteration of cruel genocides.
The GEAP considers it necessary to go in depth as to how to prevent another genocide, to reflect upon the importance of an education centered in values and constitutional principles, and an ethic that allows the student to make decisions and actions in defense of Human Rights in front of manifestations of violence, injustice, or intolerance, whether their rights or environment is threatened, or the rights of other cultures, peoples, or nations. (Why teach about the Holocaust?)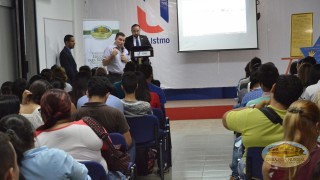 Dr. Jose Rios, Doctorate coordinator of the University, gave welcoming words; in his participation he indicated the need to continue to carry out these forums to be able to take students to a new investigative level, promoting values as a fundamental tool to encourage peace and harmony.
On his part, Ariel Cerrud, coordinator of the GEAP in Panama, spoke about the law project that the GEAP promotes to include in the curriculum of different Latin American countries the study of the Holocaust as a transversal lecture.
The Learning and practice for the formation in Human Rights
"The Nazi propaganda and censorship" was the main topic developed in the forum, dictated by Luis Batista, specialist in communication and analysis of international conflicts. This exposition promoted the interaction of the students with the purpose of realizing an exploration of knowledge about the Holocaust and other genocides.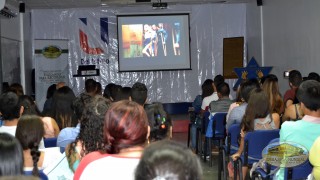 The acquired knowledge by the students will be put to practice through a test that will allow them to detect current alarm signals. The topic deals with: "The 11 principles of the Nazi propaganda: how to identify them now in the discussions of diverse world leaders."
These forums constitute a line of action in the program Educating to Remember, which the GEAP develops in diverse countries of Latin America towards the formation of Human Rights, in universal values and principles, as a way to establish fundamental pillars with the objective of reaching peace for the human family. (See: Program Educate to Remember)
Details
Date:
access_time Wednesday, July 20, 2016