The Medical Center of Puerto Rico supports blood donation day
Global Embassy of Activists for Peace
The Medical Center of Puerto Rico supports blood donation day
Volunteers from the Global Embassy of Activists for Peace (GEAP) in Puerto Rico, organized a blood drive at the Gama Phi Fraternity, in Cayey, with the purpose of guaranteeing the supply of blood and blood components to people who require it, through voluntary donations.
The activity was supported by the Blood Bank of the Medical Center of Puerto Rico, a unit attached to the Medical Services Administration (ASEM), an institution that annually receives between 4,500 and 5,000 people who require blood transfusions to undergo surgery.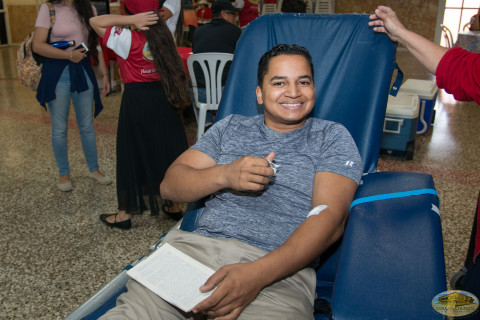 Wilmary Rivera, a nurse of the institution, reported that the 75 pints collected on this day were destined to the Medical Center.
The GEAP through the Integral Program "Life is in the Blood", promotes the formation of a culture of voluntary, altruistic and regular donation of safe blood, which also seeks to unite wills and strengthen bonds of solidarity between institutions committed to the recruitment of blood.
Blood Bank Law
On August 9, 2013, Law Number 98 was approved, which establishes that the Blood Bank of the Medical Center of Puerto Rico is a government entity that carries out blood donation campaigns, raises awareness and promotes voluntary blood donation.
This Medical Center is the largest and also serves the patients of the Caribbean islands.
Why donate blood?
The activists for peace, through awareness talks, express to the community the importance of being a voluntary, altruistic and habitual blood donor. They explained that the human being is the only one who can provide this vital fluid and help save the life of their fellow human beings.
Eunice Morales, voluntary blood donor, after participating in this solidarity act, called on the public to be part of this campaign that allows a contribution to society.
Details
Date:
access_time Wednesday, August 30, 2017