Jilotepec City Council and the GEAP sign a collaboration agreement
Global Embassy of Activists for Peace
Jilotepec City Council and the GEAP sign a collaboration agreement
The Global Embassy of Activists for Peace (GEAP) in Mexico and the Jilotepec City Council, represented by the municipal president Maria Lara, signed a collaboration agreement as a sign of commitment and social work among the institutions.
The act was developed in the Jilotepec Palace, of Veracruz State. Jose Nolasco, coordinator of the GEAP in the Gulf of Mexico, started the event with words of gratitude to those present.
For her part, María Lara thanked the EMAP for starting a team work for the benefit of society, said:
"It is important to carry out activities for the human rights, peace and the values that have been lost".
Finally, the Jilotepec City Council and representatives of the national directive of the GEAP sealed the agreement which includes the following areas:
Health
Environment
Culture
Education 
The GEAP in Mexico has the support of different institutions and volunteers that work for the overcoming, wellbeing, happiness and the peace of the human family, and of Mother Earth, promoting the formation of the integral human being.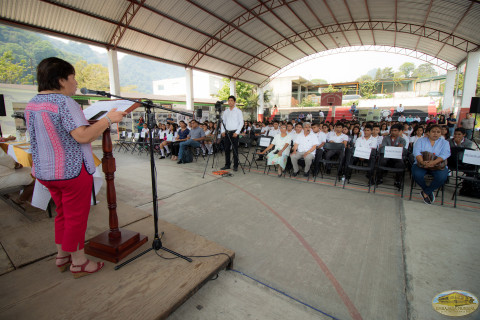 Presidenta Municipal María Lara, agradeció a la EMAP por emprender trabajo en equipo en beneficio de la sociedad
Details
Date:
access_time Monday, April 17, 2017