Guatemala | Forum to strengthen the administration of justice
Global Embassy of Activists for Peace
Guatemala | Forum to strengthen the administration of justice
The Global Embassy of Activists for Peace (GEAP) in Guatemala, as part of the Justice for Peace Program, carried out the National Judicial Forum "Human Dignity, Presumption of Innocence and Human Rights" with the aim of strengthening the administration of Justice.
The activity was carried out in the historic Cultural Center Colegio Mayor Santo Tomás de Aquino in collaboration with Tricentenaria Universidad de San Carlos de Guatemala.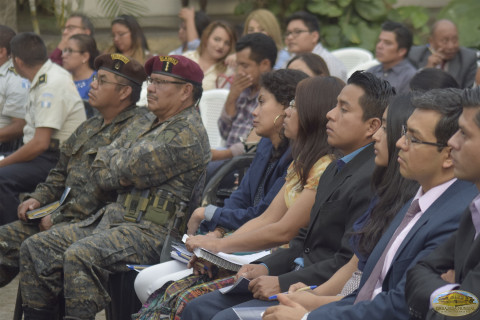 Justicia Nacional
Maritza Moreira, Director of the Cultural Center, gave the welcoming remarks to all those present and emphasized the importance of the subject in order to verify the efficiency and effectiveness of human rights treaties.
Two hundred people attended the Forum, including judges, law professionals, delegates from government institutions, representatives of municipalities, committees of the National Civil Police, military reserves and students of Juridical and Social Sciences.
Human Rights
Marco Sagastume, president of the Iberoamerican Jurists Integration Forum and Vice-president of the Inter-American Bar Association (FIA), in his presentation "Dignity and human rights" said:
"Dignity is the capacity for reasoning that we have; that is, we think, reason, we have a spiritual part and that spirit communicates through reason, therefore, we are the only species that thinks."
Abigail de Leon, Protection Officer in the Departmental Auxiliary of the Office of the Human Rights Procurator in Sacatepéquez, was in charge of the subject "Human Rights and its Moral Sanction," who emphasized:
"The sanctions or resolutions issued by the magistrate of Conscience (Prosecutor of Human Rights in Guatemala, Jorge de Leon Duque) are based on moral values and are not binding, but are covered with moral authority."
Presumption of Innocence
On the other hand, Luis Ruiz, president of the Guatemalan Bar Association, spoke about the "Presumption of innocence," where he stated that this is a principle, a fundamental right that all human rights have at the moment of being indentured of a criminal act.
"Both legal bodies establish that the innocence of people accused of crime must be presumed until proven otherwise," said Ruiz.
Finally, the GEAP representative, Abimael Bamaca, stated that GEAP seeks to strengthen national justice, as well as promoting respect for Human Rights.
Details
Date:
access_time Thursday, April 27, 2017