Guardians of nature protect the fauna of Mother Earth
Global Embassy of Activists for Peace
Guardians of nature protect the fauna of Mother Earth
With the objective of highlighting the various animal and vegetable species, the Global Embassy of Activists for Peace (GEAP) in Bolivia, celebrated World Wildlife Day with a massive march against the illegal trade of animals.
In La Paz, hundreds of students from different educational institutions, as well as the police department, forest rangers, artistic groups and the press, participated in the march.
 With banners, songs and allusive messages towards the protection of the flora and fauna, Bolivian youths walked around the streets with the objective of creating awareness in the citizens on the negative effects that come from participating in illegal trades, which consequently bring the extinction of species.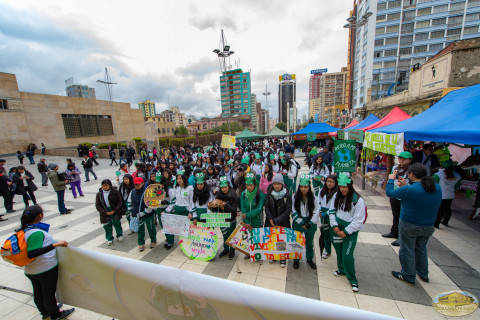 Defending wildlife
Sargent Franz Apaza, representing the Police Department, said: "We are here speaking of how to care for animals thanks to the GEAP." At the same time, Maria Eugenia Tejada, professor of the Universidad Mayor de San Andres, said: "It is the responsibility of every human that lives in this space to defend our species that are endangered."
The march ended at the Bicentennial Plaza, where the activists for peace held a Fair for the Peace of Mother Earth. In this Environmental Parade, three informative modules were presented, where the guests received lectures on how to care for the environment, and different musical groups played throughout the event.
Beni Department
In coordination with Town Hall and different educational institutions, the GEAP carried out a parade in Trinidad, Beni Department. This event counted with the presence of Mayor Mario Suarez Hurtado, who called upon the citizens to preserve wildlife and denounce these illegal acts to the corresponding organizations.
The activists gave educational and awareness talks on how to care for endangered animals. On their part, students and their teachers made drawings and banners expressing that is necessary to care and protect the animals of Mother Earth.
Details
Date:
access_time Friday, March 3, 2017