Guardians of Mother Earth invite citizens to save water
Global Embassy of Activists for Peace
Guardians of Mother Earth invite citizens to save water
The Global Embassy of Activists for Peace (GEAP) in Spain celebrated World Water Day (March 22nd) by giving awareness speeches under the slogan: "Let's save the water of our Mother Earth".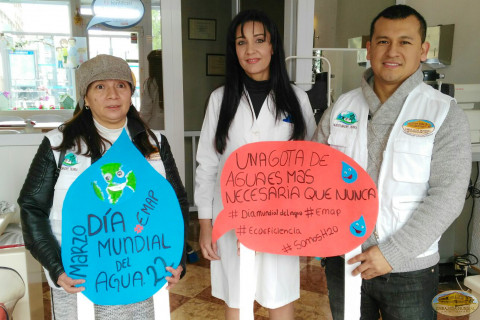 In order to create awareness in the citizens on the importance of water care, the Guardians for the Peace of Mother Earth in Madrid, Spain, visited homes, businesses and public spaces to speak of the five actions that can be put into everyday practice in order to conserve the freshwater of Mother Earth.
The report of the State Agency of Meteorology (AEMET) affirms that a significant part of the Spanish territory is situated in arid classified zones, and therefore, it is subject to seasonal droughts and they are vulnerable to desertification.
An indispensable resource
The GEAP through the International Program Children of Mother Earth allows society to create awareness on this situation and invites everyone to care for the freshwater of the country since it is an indispensable resource for the life of the human being.
The community event was led by the members of the hydrosphere brigade, who handed out a small gift made from recycled materials to every household, as a reminder of their participation in the celebration of this international day.
A brief speech was given by the activists, where they shared information on the importance of preserving natural sources of freshwater and on the need to recognized Mother Earth as a living being with rights.
Details
Date:
access_time Wednesday, March 22, 2017