The Global Embassy of Activists for Peace participated in an Environmental Caravan
Global Embassy of Activists for Peace
The Global Embassy of Activists for Peace participated in an Environmental Caravan
Citizens of Toluca received the International Program "Children of Mother Earth"
The Environmental Department of the City and the Environmental Education Center of Toluca, Mexico, organized an environmental caravan on April 1, 2016, where the Global Embassy of Activists for Peace (GEAP) was invited to participate.
The subject of caring for wildlife was highlighted with a puppet show and a photographic exhibition of the geosphere, and volunteers of the GEAP marched through the streets of the city. During the event, the International Program "Children of Mother Earth" was socialized with the people of the city. 
The GEAP believes that society is called to love, respect, care and protect Mother Earth; and that it is responsibility of every human being, as conscious beings of their acts, to work for the restoration of Mother Earth and preserve her as heritage for present and future generations. 
Therefore, the Global Ambassador of Peace, Dr. William Soto proposes the Universal Declaration of the Rights of Mother Earth, because through education and the promotion of these rights, as well as the establishment of progressive measures in different countries of the world, everything becomes linked together and universal recognition can be achieved.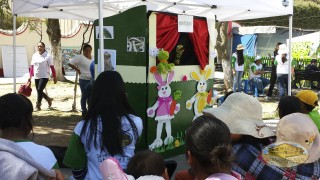 Details
Date:
access_time Friday, April 1, 2016