The GEAP imparts Holocaust workshops in schools of Higher Level in Mexico
Global Embassy of Activists for Peace
The GEAP imparts Holocaust workshops in schools of Higher Level in Mexico
As part of the Program "Educating to Remember", which seeks the non-repetition of acts of intolerance such as those occurred in the Shoah.
One of the most shocking events that happened to humanity was the Holocaust, where more than 6 million people were killed under the Nazi regime; but man
To avoid the repetition of these acts, the Global Embassy of Activists for Peace (GEAP ) and their project "Educating to Remember"  conducted the Workshops "The Holocaust, Paradigm of Genocide", an activity that was well received at the Technical College of Professional Education (CONALEP) No. 113 of Chilpancingo, Guerrero state, held on June 8th, at the high school level.
So that such acts do not recur, the GEAP is working to sow a Culture of Peace in present and future generations, by teaching a historic event where the entire human race was the victim of exaggerated hatred, evil and intolerance of one man.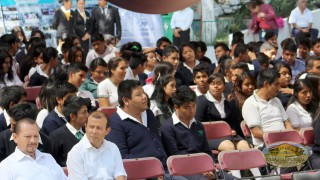 315 students and teachers took part in this workshop, which also was attended by distinguished personalities as Ms. Consuelo Ocampo, head of the Department Unico with the Productive Sector.; Ms. Sandoval Anexel Rojo, on behalf of the Councilor for Social Participation of the Municipal Women; and Luis Rafael Salazar Sevilla, state coordinator of the Program for Strengthening Quality Basic Education.
The welcoming remarks were given by Prof. Luiguin Agustin Delgado Carachuri, director of CONALEP No. 113, who thanked the GEAP for having the event within the institution, and also showed the importance of knowing these events:

 
"If this society forgets what happened, forgets that horrible atrocity we went through, we will repeat it ... we are blind to what is happening, we are allowing a violation to be committed; and when that becomes systematic, then crimes against humanity will come and after that comes a Holocaust. "
Under the theme "The situation of Human Rights during the Holocaust", Francisco Javier Luna Alarcon mentioned the development of International Humanitarian Law, the war in Iran and the importance of protecting human rights, and 
"It is important to know our Rights but it is also important to protect and respect the rights of others ... Human Rights are part of a culture ..."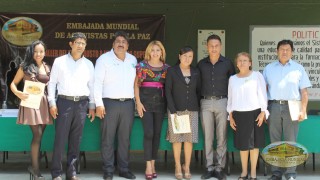 Victoriano M. Gustavo C. Garcia, Director of the National Pedagogic University (UPN) spoke on the theme: "The Power of an Education for Peace", with special emphasis on what we can learn from each other, respecting differences.



The historical context was given by Prof. Salomé Gómez Acevedo, who told the story of "Before, during and after the Holocaust," taking a journey from the beginning of the Nazi regime until its decline and subsequent disappearance. He also recounted the atrocity of the acts committed against the Jewish people and other ethnic minorities considered not pure.



The narration by Prof. Salome, served as a framework for the Photographic Exhibition of the Yad Vashem Holocaust, where everyone was invited to after handing out recognitions to the participants of the First Essay Contest: "The Holocaust, Paradigm of Genocide ".
Details
Date:
access_time Wednesday, June 8, 2016