The GEAP: Fair for the restoration of the resources of Mother Earth
Global Embassy of Activists for Peace
The GEAP: Fair for the restoration of the resources of Mother Earth
The Global Embassy of Activists for Peace (GEAP) in Mexico, installed the Fair for the Peace of Mother Earth in Veracruz, with the aim of carrying out actions in favor of the protection of Mother Earth.
The event had the collaboration of official agencies of the City of Mendoza, the National Peasant Confederation (CNC) and the System for the Integral Development of the Family (DIF).
The activity carried out under the Social Program Children of Mother Earth, was attended by different personalities from different government institutions, who share with the GEAP the purpose of protecting and restoring Mother Earth with actions aimed at the promotion of sustainable development. 
 Mayor of Veracruz.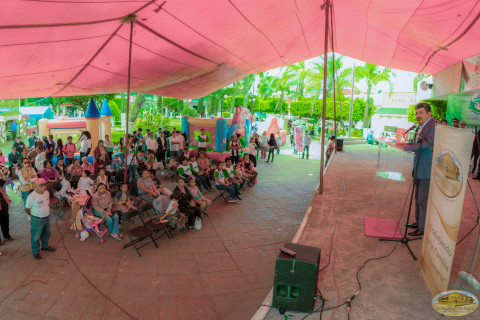 Sensitization modules
The Fair began with the tour of the awareness modules, where the Activists presented exhibitions under environmental themes. Also the Higher Technological Institute of Zongolica (ITSZ) participated with recycling modules.
Likewise, the Cecati 168, as part of the Department of Ecology of the City Council, gave educational talks through an information booth and one of wood recycling.
On the other hand, at the Benito Juárez park, GEAP volunteers presented exhibitions to visitors about the care of Mother Earth.
The Environmental Movement "Guardians for the Peace of Mother Earth" gave talks to more than 200 people on the importance of recognizing Mother Earth as a living being. For its part, the mayor of the city, Renee Huerta, thanked the GEAP for the work it does in favor of Mother Earth.
"It is an excellent job that the GEAP performs, and it is not the first time you work together. The city is a pioneer in protecting the environment and has agents of change. How to make sustainable projects and conserve natural resources is taught in every lecture, "said Huerta.
With artistic and cultural representations, the Fair concluded with contributions towards the action of forming human beings with environmental responsibility.
Details
Date:
access_time Friday, February 3, 2017