Entities Fair brings together indigenous peoples in Tarragona
Global Embassy of Activists for Peace
Entities Fair brings together indigenous peoples in Tarragona
International Day of the World's Indigenous Peoples
The Global Embassy of Activists for Peace (GEAP) in Spain, participated in the 3rd edition of the Entities Fair in Tarragona, as part of the celebration of the International Day of the World's Indigenous Peoples.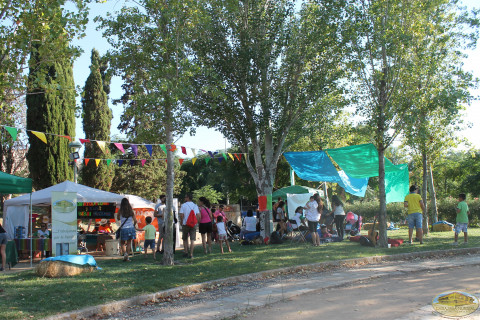 The fair was organized by the Imaginada Collective, socio-cultural association that offers alternative spaces of exchange and empowerment to the community.
With the purpose of promoting ancestral culture and the rights of the indigenous peoples, the GEAP installed an educational module under the topic International Program Children of Mother Earth.
Ancestral rituals
The event counted with the presence of Rudy Lima, ACBAS president, an association that makes known the culture and customs of the indigenous peoples in Bolivia, Barcelona.
During his intervention, Lima emphasized the importance for the peoples to carry out their ancestral rituals even though they are far from their sacred lands.
He also mentioned that the embassies of Bolivia, Ecuador and Peru join in the celebration of Inti Raymi "Fiesta del Sol" which marks the beginning of the winter solstice for the southern hemisphere Andean peoples. This activity has been organized in Spain for 15 years by associations of these 3 countries.
Guardians for Peace teach children
Indigenous people
More than 100 people visited the GEAP stand to learn more about the indigenous people living in America, among them, the Saami, indigenous communities in Europe.
The lectures were given by the Guardians for the Peace of Mother Earth, who allowed those present to appreciate the exhibition of various crafts representing the indigenous culture, rituals and ceremonies.
The volunteers of the GEAP created crafts with children and also spoke of some of the musical instruments that members of the indigenous communities used. 
Supporting the social program
The activity counted with representation from the Observatory for the Autonomy and Rights of the Indigenous Peoples in Colombia, with an office in Catalonia, who support the Program Children of Mother Earth and their line of action "The strengthening and defense of the rights of the indigenous peoples."
Details
Date:
access_time Wednesday, August 9, 2017