Brazil celebrates different events in honor of blood donor day
Global Embassy of Activists for Peace
Brazil celebrates different events in honor of blood donor day
World Blood Donor Day
The Global Embassy of Activists for Peace (GEAP) commemorated World Blood Donor Day in different cities in Brazil, carrying out activities to raise awareness and attract more anonymous heroes to donate blood voluntarily and altruistically.
During the development of these events, educational institutions, blood banks, religious organizations and government agencies participated.
The purpose of this celebration was to pay tribute to the volunteer donor through educational talks, seminars and stops where the Activists made known the benefits that this solidarity work brings to the communities of the people that join.
Educational activities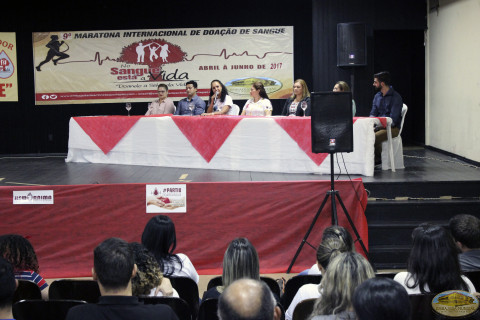 A seminar on blood donation is given in Boa Vista.
In Rio Branco, Acre, students and teachers from 4 educational institutions received awareness talks. They also counted with the support of the television program "Bon Dia Rio Branco".
Likewise, in Boa Vista, Roraima, the 2nd Seminar of the Voluntary Blood Donor was held. The event took place at the Roraima Music School. The event concluded with recognition of voluntary donors.
Recognition of voluntary donors
With a stop in the center of the city, the volunteers of Cuaiba, Mato Grosso, made known to the population the importance of being an altruist donor.
The local hemocenter (Hemogo) of the city Goias, organized a cocktail where they paid tribute to voluntary donors. The event had the participation of the musical band of the firemen of the region.
In Brasilia, the GEAP gave certificates to the regular donors for their outstanding work in benefit of society.
Talks, walks and effective units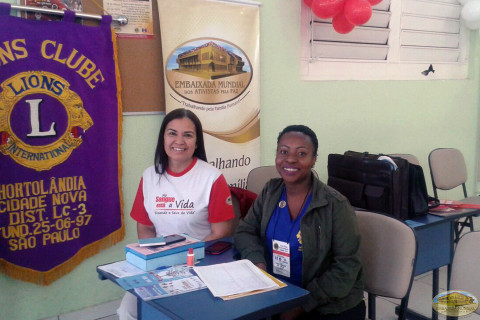 Club de Leones supports the GEAP campaign.
With talks on the importance of being a voluntary, altruist and regular safe blood donor, in São Paulo, the GEAP and the Fundação Memorial da America Latina, joined to highlight this altruist act.
In the same way, in Fraca and São Jose dos Campos also celebrated the event with awareness-raising days in order to create a culture of blood donation.
In the school of "Conceição Ap. T.G. Cardinals "of Hortolândia, educational and awareness talks were given. Subsequently a collection was made with the students, which achieved a total of 107 effective units.
The team of volunteers of the GEAP from Rio de Janeiro and Juiz de Fora, Rio de Janeiro, walked through the streets near the hemocenter Hemorio to share with Rio citizens the need to contribute to the blood banks in the area, and to make this possible there must be a culture of regular blood donation.
Details
Date:
access_time Wednesday, June 14, 2017