The Oteima Technological University hosted the Program "Educating to Remember"
Global Embassy of Activists for Peace
The Oteima Technological University hosted the Program "Educating to Remember"
The Oteima Technological University in Panama received the Program "Educating to Remember", on June 25th, 2016, as part of the integral formation of principles and values amongst the students. In the La Ballesta conference room of its main headquarters in David, Chiriqui, the Global Embassy of Activists for Peace (GEAP) presented the program through the development of the University Forum "Educating to Remember - The Holocaust, Paradigm of Genocide."
With the participation of 60 people, including students, staff and special guests of civil society, the forum opened with the words of the General Vice Rector, Dr. Francisco Ugel, who gave the attendees a brief analysis of the importance of promoting Human Rights through actions based on values, and the indispensable role of universities in the formation of better human beings.
The specialist in social communication, Luis Batista, presented the main keynote speech of the forum with the topic "Propaganda and Nazi censorship," in which he spoke about the power of communication tools to positively or negatively influence decisions of human beings in all areas of the society.
Similarly, he stressed the importance of recognizing the historical facts of the Holocaust as a guide that can allow us to identify where the focuses of repression, anti-Semitism, xenophobia and the violation of Fundamental Rights are located today.
The closing speech was given by the rector of the University, Dr. Nixa Gnaegi Rios, emphasizing on the need that the Chiricana society has to continue receiving workshops, training, and activities that promote the teaching of Human Rights in schools and universities. Similarly, she received the Project "Traces to Remember," and the exhibition of the Simon Burstein survivor plaque, which will be exhibited at the University for a period of 15 days.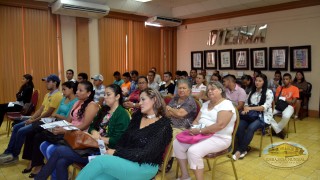 Details
Date:
access_time Saturday, June 25, 2016