The Northeast National University presented the gallery "The Holocaust"
Global Embassy of Activists for Peace
The Northeast National University presented the gallery "The Holocaust"
The "Human Rights, Genocide and The Holocaust" lecture, which is part of the Northeast National University (UNNE), invited the Global Embassy of Activists for Peace (GEAP) to participate in the photo gallery "Much more than words", in the municipality of Corrientes, Argentina.
Students from the UNNE Graphic Design School prepared the exhibition, which was carried out in the Architecture and Urbanism Department.
The event was attended by Holocaust survivor Helene Gutkowski, Professor Hector Zimerman, Rabbi Marcelo Wajcer, law school students, Fernando Piragine Niveyro middle school students, and the general public.
Human Rights.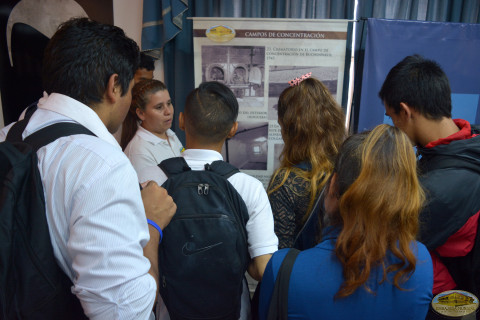 The exhibition was presented with the purpose of raising public awareness of the importance of defending and protecting human rights and it will be open to the public for two weeks.
The content of the activity was based on the Jewish Holocaust perpetrated during World War II, racism, anti-Semitism and discrimination. For their part, the middle school teachers, said that the presentation will be used as study material in the classrooms of the institution.
Heroes of the Warsaw Ghetto
In a commemorative event, Yom Hashoá Ve Hagbura, known as the day to remember the Holocaust, was presented, paying tribute to the heroes of the Warsaw Ghetto and the bravery of all those who fought to dignify life.
As part of the program, the act of lighting candles was held, attended by Vice-President Any Pereyra and national senator Carlos Espínola, among other authorities.
To conclude, Gutkowski shared with those present his life experience during the Nazi Holocaust.
The event was organized in agreement with the Israeli Cultural Society Scholem Aleijem and with the sponsor of the Catholic University of Salta, the Superior Court of Justice, the Commission of Research Teachers of UNNE and the GEAP.
Details
Date:
access_time Monday, April 24, 2017