Jewish community of Mexico City commemorated the victims of the Holocaust
Global Embassy of Activists for Peace
Jewish community of Mexico City commemorated the victims of the Holocaust
The lighting of candles ended the event intended to help prevent acts of genocide in the future.
The Holocaust meant the extermination of nearly two-thirds of the European-Jewish population, and remains as one of the most painful memories.
The Jewish community in Mexico City hosted a Holocaust Remembrance Day event on May 5th, at the Kehilá Ashkenazi Cemetery, where the Global Embassy of Activists for Peace (GEAP) attended as a special guest.
The act of remembrance was attended by distinguished personalities, including rabbis, young representatives of Jewish schools, children of Holocaust survivors and members of the board of the GEAP in Mexico, led by its National Coordinator, Dr. Francisco Guerra.
In honor of the victims of the Shoah
As part of the scheduled program, a space was opened in memory of the six million victims who suffered persecution by the Nazi government, who according to history around 7 and 8 million people (mostly European Jews) were imprisoned and confined to 22 concentration camps.
The inauguration was led by Mr. Luis Opatowski Goldberg, Holocaust survivor, who in his emotional speech recalled the difficult situation that he lived during World War II.
Opatowski said that in each survivor lies a moral responsibility so events like this are not repeated. He also referred to young people, who are aware that the Holocaust was made possible not only by the bureaucratization of genocide, but also because of the betrayal of hate-betrothed elites (doctors, church leaders, judges, lawyers, engineers, architects).
Opatowski Goldberg addressed young people and said:
"You must promise that we will never be indifferent before incitement and hatred, never remain silent in the face of evil, never tolerate racism and anti-Semitism; we will speak and act against hate, against anti-Semitism. Anti-Semitism as not over with the Holocaust, it remains latent."
With the lighting of candles in remembrance of the victims of the Holocaust, the act was completed in order to help prevent acts of genocide in the future.                                         
Remember an event that must be repeated
In rejection of any denial of the Holocaust, whether partial or total as a historical fact, the General Assembly of the United Nations, in 2005, at the 42nd plenary meeting of November 1st, adopted Resolution 60/7, Holocaust Remembrance, And designated January 27th, as the International Day of Commemoration in memory of the victims of the Holocaust.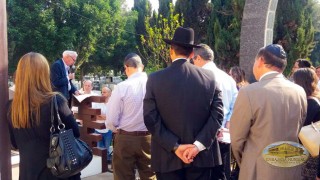 Details
Date:
access_time Thursday, May 5, 2016