Inauguration of the Historical Memory Center "William Soto Santiago"
Global Embassy of Activists for Peace
Inauguration of the Historical Memory Center "William Soto Santiago"
A work built as a compliment to the truth, to the reparation of the victims, and as a guarantee for the non-repetition of violent acts that constitute international repudiation.
With the aim of remembering and teaching present and future generations one of the events that has darkened the existence of humanity, and with the purpose of educating people to become aware of the importance of training children and young people in human values, the Mayor's Office of La Mesa, Cundinamarca, and the Global Embassy of Activists for Peace (GEAP) inaugurated the first Historical Memory Center "William Soto Santiago", on May 8, 2015 in the Republic of Colombia.
The Historical Memory Center is a space for reflection open to the public, enriched by images and reviews related to the Holocaust, the armed conflict in Colombia and some events that occurred in the Tequendama region.
An agenda will be created so every student can visit the site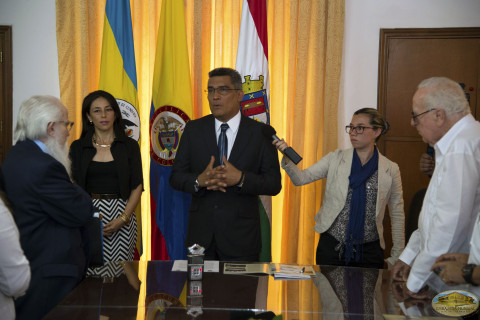 For Dr. Rodrigo Guarín, mayor of the municipality:
"Both the Holocaust, as well as the genocides that have been presented in world scenarios, and the internal violence of Colombia are events, not only of the time in which they happened, but affect every life and all generations."
The inauguration of the first Historical Memory Center of the GEAP was carried out by the executive president, Dr. William Soto Santiago, who stated:
"The right to truth is the base of every other right, because while what happened is made known, while the victims are identified and the circumstances in which the events occurred are established, we can administer justice, punish the perpetrators, repair the damage and prevent the future repetition of sanctioned behavior."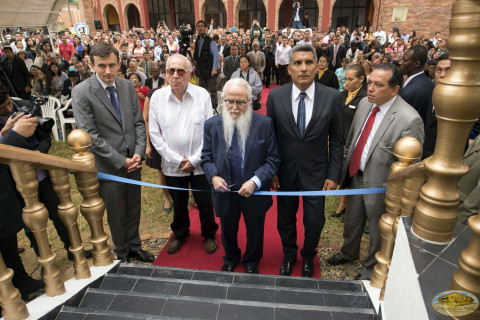 The event was also attended by: Mr. Helmut Levy, Holocaust survivor; His Excellency Ambassador of Poland, Maciej Zietara; and Iván Sarmiento, coordinator of the GEAP in Colombia; as well as historians Jackeline Szapiro and Mario Manjarres.

 
The ribbon cutting that was part of the formal opening, was followed by a tour given by the historians. This marks the beginning of a series of workshops, talks, training sessions, exhibitions and other forms of expression that will be used by the educational and social community, in order to maintain alive the memory of the victims of intolerance, hate, stereotyping and violence around the world.
Details
Date:
access_time Friday, May 8, 2015