Human Rights: Students reflect on the Holocaust
Global Embassy of Activists for Peace
Human Rights: Students reflect on the Holocaust
As part of the Educating to Remember Program, the Global Embassy of Activists for Peace (GEAP) in the Dominican Republic, held during March, two educational forums and a school-level photographic exhibition under the theme "Educating to Remember - The Holocaust, Paradigm of Genocide."
The educational activity was carried out with the purpose to contribute towards the strengthening of an integral education with the teaching of ethical, moral and spiritual principles and values, the reflection and the practice of actions of respect for universal rights and human dignity, founded on the study of the history of the Holocaust and other genocides.
The Program Educating to Remember proposes to teach the history of the Holocaust and other genocides on the basis of human rights education and focuses this historical fact as a tool that allows deepening the strategies to prevent these events against humanity.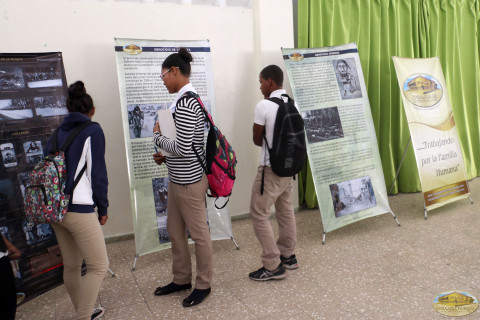 Education for Peace
From March 7th to the 9th, the first forum was held at the Matías Ramón Mella Morning High School, North Santo Domingo  municipality, with the attendance of 1,057 students (3rd, 4th, 5th, 6th grade), together with the teachers of the campus and a Committee of leading students, who had an active participation in the activity.
The campus directives emphasized the importance of this type of teaching because it prevents the emergence of men with ideals equal or similar to those of the characters who perpetrated the Holocaust, who were able to snatch freedom and human dignity from a group of people.
They also thanked the GEAP for developing this project in the school, which they consider an instrument to prevent attitudes similar to those manifested during the atrocious genocide.
Other genocides
The Dominican Republic primary school of the National District was the setting for the second academic education forum, which was held from March 27th to 31st, and was attended by more than 410 primary school students, who learned about the subject of the Holocaust and other genocides, such as Armenia and Cambodia.
Likewise, the students had the opportunity to learn through documentaries on human rights and the need to learn about their knowledge.
For this educational center, the presentation of this forum represents an opportunity for students to reflect on the subject and to appreciate the importance of the sovereignty of peoples and education in values.
Details
Date:
access_time Friday, March 31, 2017