Holocaust: Teaching about human rights and ethical values
Global Embassy of Activists for Peace
Holocaust: Teaching about human rights and ethical values
The Global Embassy of Activists for Peace (GEAP) in Mexico presented the "Traces to Remember" project, in the municipal auditorium in Ayotoxco, Puebla state, under the theme "The Holocaust, Paradigm of Genocide".
The GEAP received more than 400 people and authorities from the municipal government of Ayotoxco; among them, the municipal president, Miguel Castillo; the secretary of the City Council, Flavio Varela; the minister of education, Darinel Galicia; and the director of parks and gardens, Rubelio Salazar.
Thirteen teachers and the GEAP coordinators also attended the event; Betzabé Santos, coordinator of the educational project, and Mauro Sosme, metropolitan coordinator.
Educate society
The mayor, Miguel Castillo was in charge of the opening words, during his address said:
"We thank the executive president of GEAP, Dr. William Soto Santiago, for this project, so that it can be implemented at a basic and university level".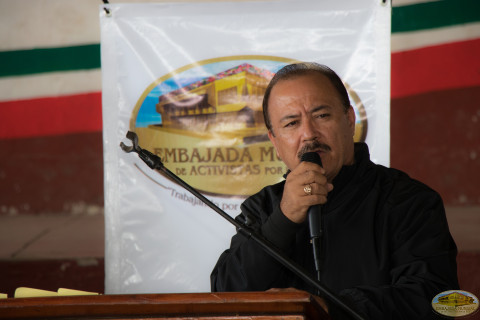 In his participation, the education councilor Darinel Galicia, commented that the Holocaust, known as "the final solution", was the most terrible fact that the human race has been able to execute, with people prepared but lacking in values; in addition, indicated that education must be based on values.
"Let the students instill values ​​and love for others and there is no evil, hatred and intolerance; I express my most deserved recognition and congratulations to Dr. William Soto Santiago and all those who are part of the World Embassy of Peace Activists ", said Galicia.
By every mean
Mauro Sosme, metropolitan coordinator of the GEAP, in his speech referred to the propaganda used by the Nazi regime to destroy the Jewish people, and through the newspaper, radio, television, books, posters, and the education they gave them to the children in the classrooms, this seed of hatred was sown.
Also participating in the presentations were David Cervantes, leader of the youth movement of GEAP, who referred to the ghettos in the concentration camps and also to the genocide. He said:
"It was not an accident of nature, but a premeditated crime; and that all who worked together were well-prepared young men. That is why, young people, let us begin to use values, encourage respect, the familiarity."
Exposure of facts
To conclude, the local coordinator of the GEAP, Israel Hernández, gave recognition to the panelists, authorities and the high schools Jaime Torres Bodet and Avila Camacho elementary school.
With the cutting of the ribbon by the education councilor Darinel Galicia, the photographic exhibition "The Holocaust" was inaugurated. The participants made a tour in the company of the volunteers of the GEAP, who presented a brief exhibition of the content of the gallery.
Details
Date:
access_time Friday, February 17, 2017