Guatemala: Plaque in honor of Holocaust survivor was presented
Global Embassy of Activists for Peace
Guatemala: Plaque in honor of Holocaust survivor was presented
At the Hall of the People of the Congress of the Republic of Guatemala, the Global Embassy of Activists for Peace (GEAP) held an event in honor of Holocaust survivor Bina Polonsky Einav. The activity was developed under the "Traces to Remember" project.
Authorities from the Legislative and Diplomatic Power, such as the German Ambassador in Guatemala, Harald Klein and Deputy Mission Chief, Yoav Katz, attended the event.
Also, representatives of the Israeli Embassy in Guatemala, deputies from different blocks, General Secretariat of the International Criminal Bar Association, the Spanish Advocacy Foundation, the Guatemalan Jewish Community and Activists for Peace.
Unveiling of the plaque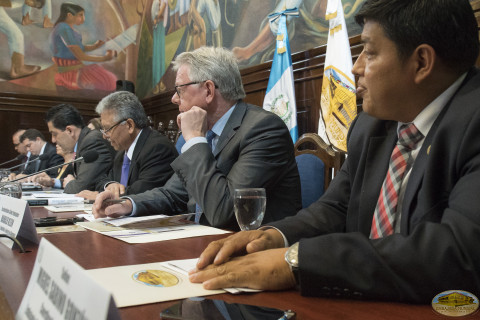 Legislative authorities converge on Guatemalan congress
 The welcoming remarks were given by the vice president of the Commission of Education, Science and Technology of the Congress of the Republic, Ovidio Monzon.
The commemorative event consisted of the display of a plaque in the form of the Star of David, which contains the survivor's handprint, accompanied by a slide that presents a text with a brief description of what happened in the Holocaust.
Finally, Bina Polonsky thanked the GEAP and told her story during this event and how she survived with her family.
Living Testimony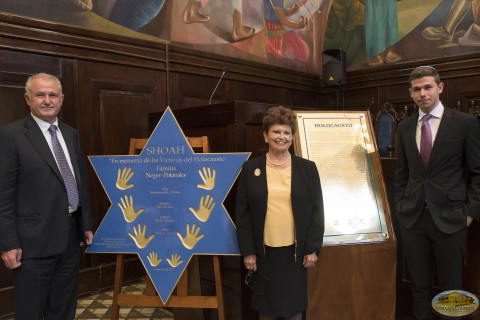 Families marked by a story
Bina Polonsky was born in 1939, the year in which World War II was unleashed; her mother Henna and her sister Esther had to hide and their father was killed. Bina was hidden in a convent and her name was changed to Maria.
Days later she was removed from the place for wanting to put a star on her arm as her father did, then she went to live at the house of her babysitter, Fesia, and posed as her daughter. At the end of the war her sister Esther went to live in the United States of America.
Bina and her mother first passed by Guatemala to meet with Esther, country where they decided to remain because of the hospitality of the people. This has been her permanent home for sixty years.
Details
Date:
access_time Wednesday, June 7, 2017