El Salvador | Students participate in a marathon for human rights
Global Embassy of Activists for Peace
El Salvador | Students participate in a marathon for human rights
The Global Embassy of Activists for Peace (GEAP) in El Salvador, organized the activity "Marathon for the recognition of human rights and the practice of moral values in the Hellen Adams Keller School." The event was carried out in the multipurpose room of this house of studies.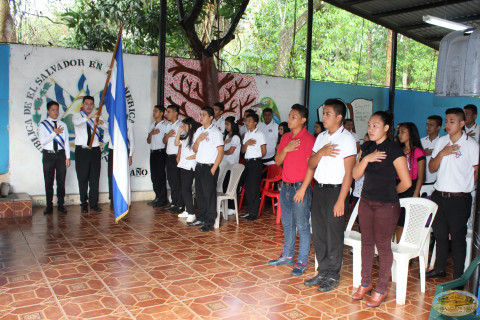 The marathon, where 75 people attended, including students, teachers and parents, was developed with the aim of implementing the peace proposals that emerged in the Educational School Workshop Educating to Remember - The Holocaust Paradigm of Genocide, carried out on March 19, 2018.

The realization of the proposals allowed the students to participate in a process of raising awareness and take actions for the defense of human rights and respect for human dignity in the face of any warning signs of crimes against humanity.

The GEAP, through the Educational Program Educating to Remember, contributes to the strengthening of an integral education that promotes a culture of peace through the practice of principles, universal values and the promotion of human rights in society.
In defense of human rights
The proposal "Preparation of posters on human rights, forms of violence and citizen duties" was carried out with the aim of raising awareness in the student community about the importance of knowing human rights and eradicating all forms of discrimination and violence in Salvadoran society.

The proposal: "Development of dramatizations, lectures on values and human rights to the students of the Hellen Keller School," was held in order to raise awareness among the youth about the consequences of acts that violate human rights.
The staged topics were:
The importance of obeying parents and following their advice

Consequences of disobedience to parents

Domestic violence

Violence in schools

Bullying

The importance of reporting to the competent authorities any situation of violence that occurs in the house or school.
Finally, the students gave lectures on human rights, values and forms of violence to support their eradication in society, with the purpose of getting the members of this educational institution to become promoters of peace.
Details
Date:
access_time Friday, May 4, 2018