Concert for peace is held at the Government Palace of Nuevo Leon
Global Embassy of Activists for Peace
Concert for peace is held at the Government Palace of Nuevo Leon
In celebration of the International Day of Tolerance, the National Symphony Orchestra of the Global Embassy of Activists for Peace (OSEMAP), in Mexico, presented a musical concert at the Government Palace of the State of Nuevo Leon. This event served as the setting for the signing of a cooperation agreement between the Global Embassy of Activists for Peace (GEAP) and the Monterrey Youth Association.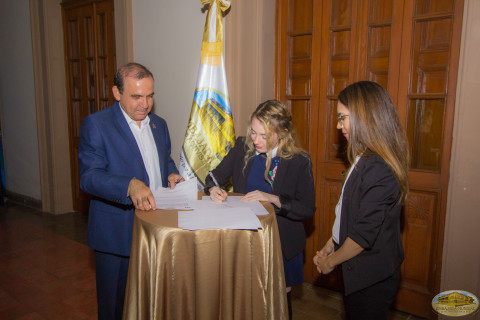 Signing of the Collaboration Agreement
The Concert was attended by representatives of government institutions, including David Lozano, director of Strategic Planning of Nuevo León; Héctor Delgado, president of AIESEC; José Reyna Aguilar, director of the INJUVE State Youth Institute, and more than 300 people from the general public.
Businessman Marco Bracho also made an appearance; Andrea Chávez, founder of the Organization Agents of changes that transcend; and Oscar Vélez Ruiz, head of Public Policies in Community and Biodiversity A.C.
Mexican folklore
The OSEMAP, which plays the musical pieces in the frequency 432 Hz, interpreted themes of Mexican folklore, such as: Mexico lindo y querido, El Feo, La llorona and El corrido de Monterrey. Also included in the repertoire were international themes such as America, Hava Nagila and Con Te Partiró, among others.
Details
Date:
access_time Tuesday, November 14, 2017