200 students attend a talk about the Holocaust given by GEAP volunteers
Global Embassy of Activists for Peace
200 students attend a talk about the Holocaust given by GEAP volunteers
200 students from E.E.S. N°7 "Mac Lean" participated in the talk "The Holocaust and the short life of Anne Frank", an activity organized by the Global Embassy of Activists for Peace (GEAP), held at the Mitre Library, in Resistencia, Chaco.
Under the project "Educating to Remember" and "Traces to Remember", GEAP volunteers told the story of Holocaust survivor Irene Schwimmer, who currently lives in the city of Chaco.
Attendees took a tour of the exhibition that showed the persecution and systematic murder of six million Jews by the Nazi regime. During the war, the Jews were deported and killed as part of the "final solution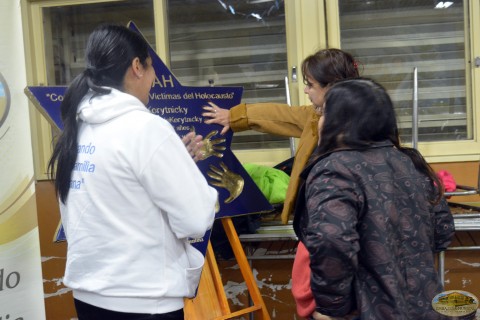 Alarm signals    
In Argentina, Activists for Peace carry out this type of activity in order to recognize these facts and identify the alarm signals in the face of the emergence of extremist governments, groups or individuals that carry out these actions, which can trigger a new crime against the human family.
For GEAP, it is an obligation to remember the past, raising awareness in present generations about the factors that triggered the different genocides and the circumstances that led to them, as well as the consequences and repercussions they left in humanity.
Details
Date:
access_time Wednesday, May 18, 2016