Dr. William Soto | National Human Rights Commission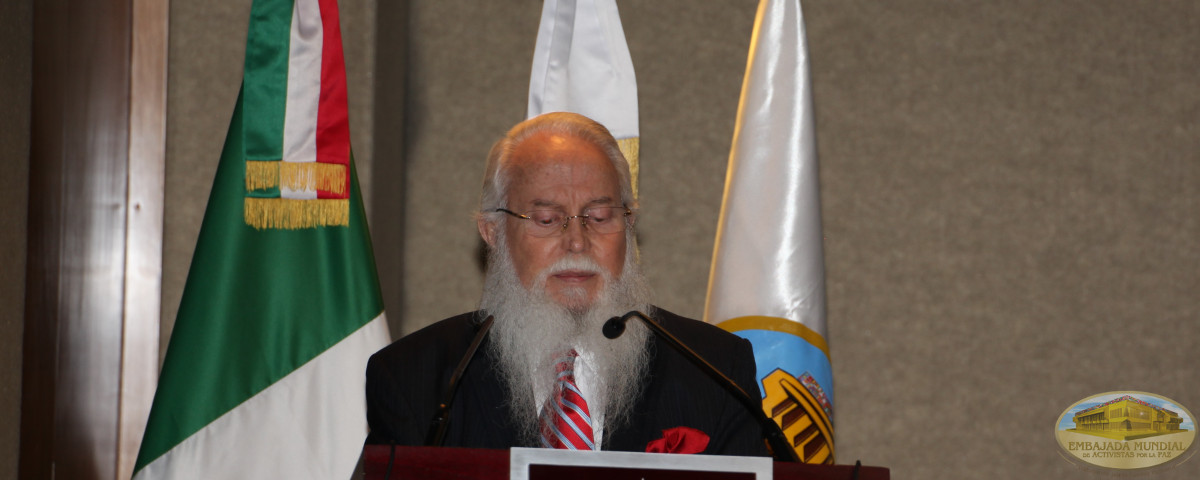 Dr. Raúl Plascencia Villanueva, President of the National Human Rights Commission, and all members of his team here present; Oscar Elizundia Treviño, Technical Secretary of the National Human Rights Commission; Bedrich Steiner, Holocaust survivor; Jaime Murow, President of la Asociación Educativa Contra el Prejuicio y la Discriminación: "El Holocausto" [the Educational Association Against Prejudice and Discrimination: "The Holocaust"]. Ladies and gentlemen, good morning.
Mexico stands out in Latin America and in the world due to its defense of human rights. Its legislation is in accordance with international treaties prohibiting all forms of discrimination, given that this country has very progressive laws forbidding the incitement of hate, intolerance, and violence.
An example of such a legislative function is the "Federal Law to Prevent and Eliminate Discrimination."
For this reason, the Global Embassy of Activists for Peace has chosen to begin in Mexico, and from here, to spread across all Latin American countries the series of forums "Educating to Remember: The Holocaust and its Impact on Universal Human Rights", which have been held in over 30 cities. Each of these forums has included the participation of representatives of human rights commissions in each state, as well as political authorities, scholars, and university authorities.
Among the objectives of the Global Embassy of Peace Activists is to promote recognition and respect for human dignity and fundamental rights through legislative and academic projects which include the adoption, implementation, and consolidation of anti-discrimination measures in the legislative field, in daily relations among citizens, and between citizens and state representatives.
Following this humanist plan of action by which the Global Embassy of Activists for Peace has always been characterized, we decided to promote a law proposal to include The Holocaust: Paradigm of Genocide as a course for study, reflection, and debate in educational programs provided by the federation of Mexico, its federal states and municipalities, their decentralized institutions, and individuals with authorization or valid official recognition to grant educational studies; and as a case study in universities. This is based on Resolutions 60/7 of November 1, 2005 and 61/255 of March 22, 2007, issued by the General Assembly of the United Nations, in addition to being in accordance with the aims and purposes of education and the National Education System.
This law proposal aims to educate both present and future generations about the barbarism of this genocide as a way to create reflection on the value of life and human dignity, thus making them aware of the consequences of discrimination and intolerance so that these crimes against a group of people due to racial, ethnic, linguistic, cultural, idiomatic, religious, gender-based or any other type of discrimination never happen again.
The study of The Holocaust: Paradigm of Genocide must be done in reference to human rights and universal and constitutional principles, so that students understand the consequences of discrimination and intolerance, and thus become aware of the need to prevent the repetition of genocide.
This project will help prevent situations of violence and discrimination that may occur as part of the national reality of Mexico, strengthening through education the transmission of values and principles, as well as respect for others. These are essential pillars to build individuals who know, accept, and respect human rights and fundamental freedoms.
To achieve peace, we must first create a society that works to defend human rights, and that can be accomplished with an education based on constitutional values and principles that identify and prevent the commission of crimes and all acts which are a product of intolerance, hate, discrimination, and prejudice. In this way, we will be educating to prevent criminalization.
According to the United Nations, the International Day of Peace is observed on September 21.
The Global Embassy of Activists for Peace has the purpose of transforming this official date into much more than simply a commemorative act of protocol. May this date become an opportunity to further actions and promote initiatives and projects with government and non-governmental authorities, with different academic organizations and institutions, both public and private, and with individuals who work comprehensively for the recognition and respect of cultural, ethnic, political and religious diversity, with the objective of achieving the peace of the human family.
Thank you very much for joining us in this challenge.
Details
Date:
access_time Fri, 09/20/2013 - 00:00